So…. Who's had a shitty end of year too?

It had been going ok for December, the Comic Con went great, my sis Orathty came for it and dressed as Regina the Evil Queen from Once Upon a Time and she rocked hard for a first time Cosplayer. I managed to put up a decent-ish Star Wars Rey cosplay together, got a nice compliment by a girl from the official Belgium 501st Legion (Star Wars group), so I felt happy

Lots of AMAZING cosplayers and we got to meet the talented LeonChiroCosplayArt, he has an amazing portfolio, you should check him out. It was a great time. I have more photos in my FB 'cosplay' page GPhoenix Stuff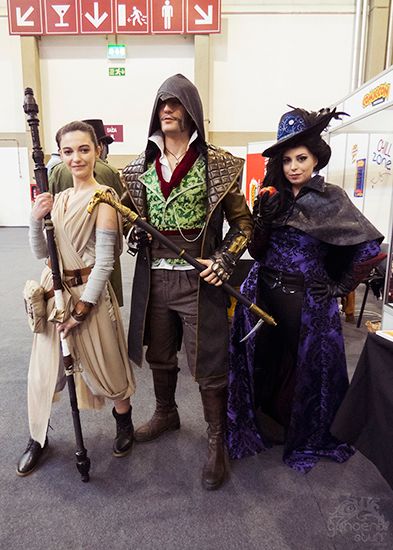 With Orathy and Leon Chiro


Then, on the 23rd of December… my hard drive decided to die and panic issued because I thought I had lost everything. My life is literally inside my laptop. A girl I know volunteered her boyfriend to see it and it meant a few back and forth 1 hour by train trips, but he assured me that all my stuff could be saved. So I went and spent money on 1TB external hard drive and hoped he could still save my internal hard drive, but it had become corrupted beyond repair, he said. So more money to order a WD Caviar Black internal drive and waiting and waiting and waiting and fretting in case it'd not fit, my laptop will be 5 years old this year. In two weeks I've spent almost 200€, money I wanted to save for stuff I wanted to buy, cosplay and such. Tough luck for me.
So almost 1 month later, on the 22nd of January, I got the hard drive and switched it myself, I'm more comfortable with hardware than software lol I couldn't even wait to get home, I went to the food plaza of the shopping and switched the hard drives right then and there and, thankfully, it fit and works really nice. And although with less capacity than my old one, it's faster. At last something went well after a whole month of shityness and a dreadful entry in the new year. Hope all of you had a nicer one.
And this was why I been M.I.A.. Now I installed everything again and I'm up and running, I can get back to my comic, work on some cosplay manips, I'm happy

Even if it's sad you think your life stops when your computer dies. My marketing course is also over, so I again have all the freedom of an unemployed person again. I hope to be more creative this year… we shall see. And so close to have 50.000 views, it only took me 11 years XD Thanks guys!

Wish you all an AMAZING 2016, even if I'm a month late lol
Have a great time guys.